The Inner Circle (IC) is a team of about 50 students from Oldenburg and the surrounding areas. Its work starts shortly after the end of an OLMUN and prepares everything concerning the following Oldenburg Model United Nations Conference (OLMUN). Different topics for each of the committees are to be developed, discussed and decided and accommodations for the upcoming conference have to be found and booked. Furthermore, the IC has to find supporters for the next OLMUN.
During the time of preparation some students focus on posts as Chairs or Student Officers. That way all big organisational sections and topics, such as Housing, Staff, Entertainment, Public Relations or Press have a specialised member who focuses on the tasks.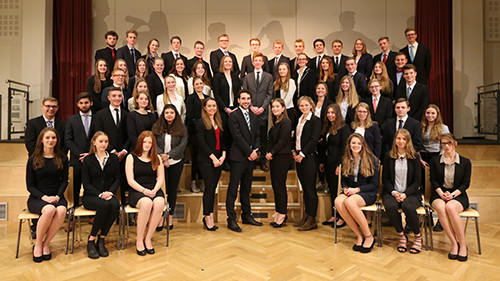 Inevitably, all this work takes a lot of time, but nevertheless each year there are a lot of new students who join the IC and thus get the chance to participate in the organisation of the great event. The IC has to face a new challenge each year, but offers an unique possibility to all students participating. They all not only learn a lot about the OLMUN, but also about themselves. The first aim of the IC of course is creating a fantastic OLMUN Conference, but also bringing people from different nations together and opening a way for education in a more vivid way than school could ever be.